The versatile NYC-based DJ/producer and TURRBOTAX® resident Mayster (Maciej Surowiec) returns to SCI-FI & FANTASY with a new EP titled Folding Lines. The follow-up to his debut last year conjures a futuristic techno atmosphere with an air of romantic mysticism. Opener "Intro" is a sublime trip which unlocks the cryptic yet playful grooves and rhythms of "Down Size", "The Way I…" and "0.250%". All three tracks are a foray into new experimental patterns and textures, but remain firmly rooted on the dancefloor.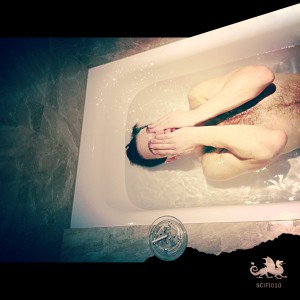 Tracklist
1 – Intro
2 – Down Size
3 – The Way I…
4 – 0.250%
[soundcloud url="https://api.soundcloud.com/tracks/176926692″ params="auto_play=false&hide_related=false&show_comments=true&show_user=true&show_reposts=false&visual=true" width="100%" height="450″ iframe="true" /][XLR8R writes up Folding Line]
Available at iTunes, Boomkat, Beatport, Amazon, Juno, and all good digital retail shops.
Mayster's sound is like the edge of a perfectly sharpened knife, sleek like a matte black stealth bomber, crisp like dawn over a warehouse somewhere on the outskirts of the city. Inspired by minimal techno's dynamics of shade and space and the propulsive loops of the house underground, this producer and DJ resident of Brooklyn's highly acclaimed Turrbotax® parties applies a painstaking polish to his corner of the dancefloor. Born in an industrial town in Southern Poland but residing in New York City for the last 8 years, Mayster's aesthetic leans toward the dark, the mysterious, and the melancholy; he's inspired by machines, the motorik German techno of his youth, and the illegal all-night parties in which he can be found 'til the early hours. His name itself is a riff on meister, the German word for a skilled tradesman—a perfect alias for a master builder who painstakingly crafts his tracks layer upon layer, with a deft ear for sound design and a beautiful touch with reverbs and delays. Mayster's music is a pristine ice palace of shadowy crevices and prismatic textures. Something for your mind, your body, and your soul.