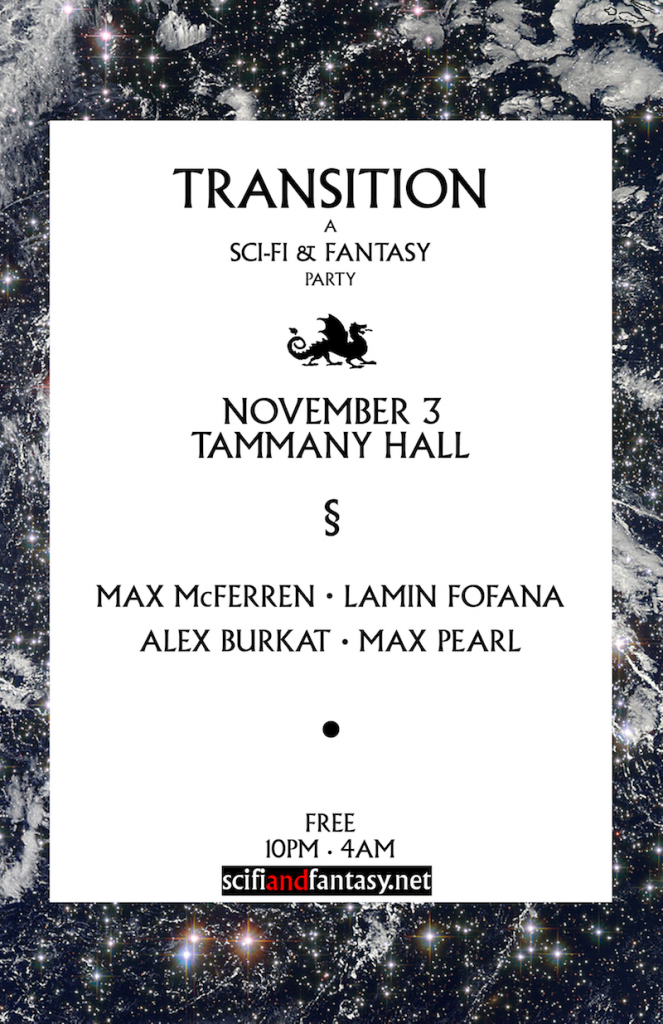 ❝ Do not let questions strain or trouble you just point youself in the direction of your dreams find your strengh in the sound and make your transition. ❞
This is indeed happening tonight at Tammany Hall in Manhattan's Lower East Side! NYC, Lower Manhattan need your help. Come out and shake your bones! We're psyched to play and we're looking forward to seeing warm bodies and beaming faces! This is the first in a series of parties we're putting together.
TRANSITION
••• A SCI-FI & FANTASY PARTY •••
MAX McFERREN • LAMIN FOFANA • ALEX BURKAT • MAX PEARL
Tammany Hall
152 Orchard Street
New York, NY 10002
10 PM ••• LATE
$FREE$
•
Fresh off his dance-floor razing debut for Sci-Fi & Fantasy (Hard Feeling is in shops now!), Max McFerren crafts jam-packed mix teeming with unreleased original bangers to get you ready for the night. Download or stream the mix and check Max McFerren SoundCloud for more info, full tracklist, and other gifts and goodies from Max.