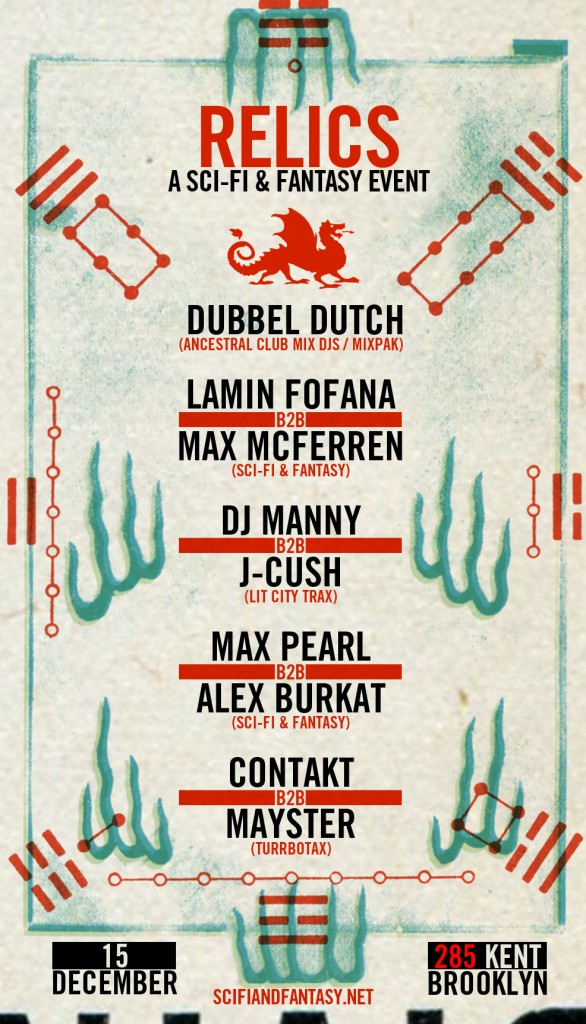 After our launch party last month, we decided we needed a bigger spaceship. We mortgaged the house, upgraded our little shuttle to an intergalactic Starliner, and we'll be taking off from 285 Kent Avenue some time around 10PM, Saturday the 15th.
SCI-FI & FANTASY presents: RELICS, an all-night, into-the-morning warehouse party featuring label artist, affiliates and friends.
SCI-FI & FANTASY just released its first single, MAX MCFERREN's "Hard Feeling" b/w "Tough Homme"—a chunky house record with retro-futurist angles and a muscular physique. Our next record is out in January and in the mean time we'd like to celebrate with SCI-FI's label artists and help from our extremely talented homies at LIT CITY TRAX, TURRBOTAX, CLUSTER MAG, and TALACHA.
We managed to assemble nine of our favorite DJs who are going back-to-back all night with raw, grooving machine music from the far reaches of the known & unknown universe. Strap on your anti-gravity suits:
••• December 15 • 10pm • 285 Kent Brooklyn • $10 • Facebook Event Page •••
••••••••••••••••••DUBBEL DUTCH••••••••••••••••••
•••••••••••••Mixpak / Ancestral Club DJs••••••••••••
[soundcloud]http://soundcloud.com/dubbeldutch[/soundcloud]
•••••••••LAMIN FOFANA b2b MAX MCFERREN•••••••••
•••••••••••••••••SCI-FI & FANTASY•••••••••••••••••
[soundcloud]http://soundcloud.com/scifiandfantasy[/soundcloud]
••••••••••••••J-CUSH b2b DJ MANNY••••••••••••••••
••••••••••••••LIT CITY TRAX – Chicago••••••••••••••
[soundcloud]http://soundcloud.com/litcity[/soundcloud]
••••••••••••MAX PEARL b2b ALEX BURKAT••••••••••••
••••••••••••••••••SCI-FI & FANTASY••••••••••••••••
[soundcloud]http://soundcloud.com/burkat/[/soundcloud]
[soundcloud]http://soundcloud.com/kat-fyte[/soundcloud]
•••••••••••••••CONTAKT b2b MAYSTER••••••••••••••
•••••••••••••••••••TURRBOTAX•••••••••••••••••••••
[soundcloud]http://soundcloud.com/mayster[/soundcloud]
•••••••••••••••Aesthetics by TALACHA•••••••••••••••